---
"TUNNELING THE WHEEL" OR "SHOOTING THE RING"?

YOU MUST BE PLAYING THE UNIQUELY AUSTRALIAN SPORT OF TRUGO, A HYBRID OF LAWN BOWLS, CROQUET & WOODCHOPPING.



Words Michael Blayney Photography Robyn Lea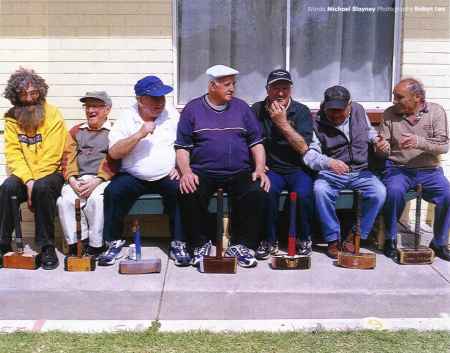 When grandfather of four Ramo Poloso first lifted a mallet at the Port Melbourne Trugo Club five years ago, little did he know that sporting triumph was just around the corner. Now the 69-year-old is a world champion, of sorts. He is a master of the very Australian, very provincial sport of trugo.

But Poloso didn't exactly rack up the frequent flyer points in search of his world championship title. Exclusive to a small pocket of Melbourne, the game of trugo is played by just 300 keen enthusiasts in nine locations throughout the city's inner north and west. Best described as a curious hybrid of lawn bowls, croquet and woodchopping, the sport provides a lively and competitive outlet for older Melburnians of both sexes. In fact the average age of Poloso's Port Melbourne club is 70.

"It's the best thing that's ever happened to me because you get to meet all these wonderful people," says Poloso, pottering in the Port Melbourne clubrooms before a social hit. "We've all got the same interests, we're all struggling on a fixed income and after the game we all sit down and have a cuppa and a chat."

Tucked away in parklands close to Port Phillip Bay, the Port Melbourne pitch initially resembles a lawn bowls green, but on closer inspection the surface is far too short end-to-end, at only 27.4 metres long. Inside the clubrooms, the walls are festooned with mementos of past glories — dog-eared photographs, trophies and shields listing the victorious teams of previous fiercely contested tournaments.




'IT'S THERAPEUTIC FOR YOUR BODY. TO ME IT'S LIKE CHOPPING WOOD. AFTER YOU CHOP WOOD YOU ALWAYS FEEL GREAT, AND I FEEL THE SAME WAY AFTER PLAYING TRUGO.'

Trugo is arguably the only sport wholly devised and developed by Australians in Australia and the origins of the game are as quaint as they are peculiar. In the 1920s a group of workers in their lunch hour at the Newport rail yards (about 5km from the Melbourne CBD) took to knocking around some discarded buffer washers (used to connect the carriages) with a sledgehammer. Goals were erected the width of a railway gauge and the pitch itself was established as the length of a carriage. Legend has it that when a player scored a goal the shot was called a "true go", and the name stuck.

The game attracted the interest of surrounding suburbs and today still retains its simple philosophy. Two teams of eight shoot the "ring" or "wheel" at goal 24 times. 12 at each end. The team with the most goals wins. New techniques for striking the wheel have evolved over the years. The women prefer the more "ladylike" sideswiping technique, similar to a shortened golf swing, while the men now "tunnel" the wheel between their legs to the goals behind them.

The robust Poloso crunches wheels towards the uprights, his precision rarely skipping a beat as he effortlessly knocks up 23 goals out of a possible 24. "To me the game's so straightforward," says the world singles champ. "I'm amazed that no-one else has picked up on it. It's therapeutic for your body. To me it's like chopping wood. After you chop wood you always feel great, and I feel the same way after playing trugo."

Trugo is played throughout Melbourne from August through to April. Men play on Thursdays, women on Saturdays.

Contact the Victorian Trugo Association on (03) 9350 1468.


Copyright © 2002 by
Qantas Airways Limited
All rights reserved




---
Home | Intro | Playing | Rules | Gallery | Articles | Mallets | News | Contact | Links
---
Copyright © 2000 - 2007 by
Connecticut eXtreme Croquet Society
All rights reserved