---
WBUR "It's Only A Game"
Boston University Radio

In April of 2004, WBUR - Boston University Radio - in association with NPR - National Public Radio - did a radio article about us, and eXtreme Croquet, in Bumblebee Park - Littleton, Massachusetts.

It was produced by Karen Given and Gabe O'Conner of WBUR, and the game played by members of the Connecticut eXtreme Croquet Society, the Mangled Mallets from Vermont, and folks from the Chiltern Mountain Club in Massachusetts.

The feature was aired on WBUR as part of their "It's Only a Game" series. It aired on over 140 radio stations across the U.S.

We purchased a copy of the program on CD, and converted it to a 9 min 53 sec 4,635 KB MP3 file.

It's really a terrific radio article, masterfully done.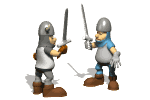 "It's Only a Game"

Copyright © 2004 by
Boston University Radio
All rights reserved
---
Home | Intro | Playing | Rules | Gallery | Articles | Mallets | News | Contact | Links
---
Copyright © 2000 - 2007 by
Connecticut eXtreme Croquet Society
All rights reserved