---
Curios and Curiosities


"Crolf" Clubs
From: Dan H
To: warseck@ntplx.net
Sent: Wednesday, October 08, 2003 9:20 AM
Subject: Crolf clubs?

Kudos on your Smithsonian feature! It brought back memories of playing "crolf" in the sand dunes along Lake Michigan in the 1950s. I now own some suitable acreage (stream, heavy woods), and would like to set up a woodland course.

I note on your website where you state: " The first true example of eXtreme croquet appeared in the 1920s, when Herbert Swope, publisher of the New York World, built a new course on his Sands Point, Long Island estate." Odds are, Mr Swope used the same clubs as we did (they were old by the time I used them). Here's what we used:

http://www.clubmakersart.com/contents/chap18.html

Are you aware of a source of these clubs? For nostalgia's sake, I'd love to use them again. No luck on EBay so far.

Thanks,

Dan H,
Farmington Hills, Michigan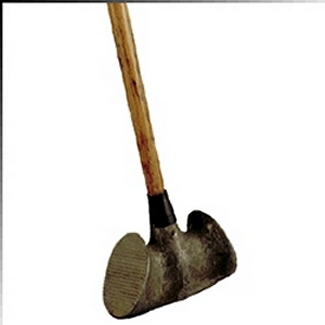 Image Copyright © 1997 by Jeff Ellis, Clubmaker's Art. All rights reserved.
Used with permission.

On August 4, 1925, John Wilson received a U.S. patent that covered this distinct duplex club. This club was used to play "Crolf" -- a hybrid of croquet and golf.

It is considered to be a "perimeter club" in the book The Clubmaker's Art authored by Jeff Ellis. See more about antique golf clubs at AntiqueClubs.com



If you can tell us anything about them, we'd appreciate hearing from you. Contact us.




---
Home | Intro | Playing | Rules | Gallery | Articles | Mallets | News | Contact | Links
---
Copyright © 2000 - 2007 by
Connecticut eXtreme Croquet Society
All rights reserved