---
NPR "All Things Considered"
National Public Radio

In September of 2004, National Public Radio (NPR) - did a radio article about us, and eXtreme Croquet, in Granby, Connecticut.

It was produced by Pippin Ross for NPR, and the game played by members of the Connecticut eXtreme Croquet Society, the Mangled Mallets from Vermont, and the Massachusetts eXtreme Croquet Society.

The feature was aired on NPR as part of their "All Things Considered" series. It aired on over 140 radio stations across the U.S. We didn't even realize that NPR was going to air it, and only heard about it from a friend in Florida.

We purchased a copy of the program on CD, and converted it to a 3 min 55 sec 1,843 KB MP3 file.

It's really a terrific radio article, and really funny.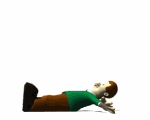 "All Things Considered"

Copyright © 2004 by
National Public Radio
All rights reserved
---
Home | Intro | Playing | Rules | Gallery | Articles | Mallets | News | Contact | Links
---
Copyright © 2000 - 2007 by
Connecticut eXtreme Croquet Society
All rights reserved